VINDHYAWASINI TEMPLE

One of the 108 'Shaktipeeths of India, is thronged by millions of pilgrims from all over the world, twice a year during 'Navratri' in 'Chaitra' and 'Kwar' months of Hindu calendar year.

The sanctum sanctorum is located 5 Kms away from Mirzapur town, on the bank of holy Ganga has remained a center of inspiration for Hindus from the time unknown.

Kajali Festival held every year in Sawan Month of Hindu calendar to pray the mother deity adds to the significance of the temple
KANTIT SHARIF

A symbol of communal integrity, Dargah of Khwaja Janab Ismail Chisti Rehematulla (nephew of Khwaja Moinudeen Chisti 'Garib Nawaj' of Ajmer) is located on the way to Vindhyachal.

Devotees of Hindu and Muslim communities from around the world offer 'Sirni Mala' and Chadar through out the year.

Every year in the Muslim calendar month of 'Rajab' 6th, 7th and 8th is treated as yearly 'URS'. About a million 'Zaireen' (Pilgrims) visit from all over India on these three days. Apart from these days, thousands of people come during the rest of the year.


KALI KHOH
Among three different divine manifestations of Adi Shakti Mahakali is said to be settled in cavern of Kali Khoh.

Three kilometers south ward from Vindhyanchal Temple.

The Temple premises are favorite place of sojourn for Tantriks (magician )of all over the country.

Dense verdure and beautiful streams flowing over the pebbles of Vindhya rocks surround Temple.
ASTABHUJA TEMPLE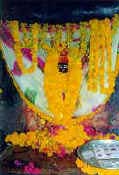 Located at 3 Kms distance form the Vindhyachal temple, amidst the serenity of Vindhya hills, Ashtabhuja temple is another place of religious importance.

The mother goddess was born form the womb of Yashodha and the demon Kans intended to kill her considering her the 8th child of Devaki.

The baby child got rid from the shackles of Kans and through the aerial path settled at Vindhya hills as the incarnation of Shakti.
SITA KUND
The pilgrims coming to Vindhyachal essentially perform the ritual of Maha Trikon. They walk afoot and offer worship over to deity trio Mahakali, Ashtabhuja and Vindhyawasini. Trikon Yatra is considered to render divine bless for mankind. Three different temples of mother goddess are situated at a distance of three kilometres each in a triangle.
BABA BHARO NATH
Baba Bharo Nath Temple with a long person of his own height along with several other weapons in hand is said to be the internal sentinel of the Vindhya region.

Devotees trudging towards and Vindhyawasini temple, pay their obeisance first to its deity and are spell bound at a glance.

Baba Bharo Nath temple acts as a bridge and links both, deists to their duty and Mirzapur City to Vindhyachal.
SHIVPUR
It is a large sized Shivling situated over a mound on the bank of Ganga. It is believed that on his way to exile when Ramchandra Ji crossed Ganga, he established this Ling himself. It is located 3 Kms Westward form Vindhyachal on Mirzapur Jhansi Highway.
BUDHE NATH TEMPLE
Inhabited in the heart of the Mirzapur city, Budhe Nath Temple near Trimuhani, in Budhe Nath lane, is an outworn temple wherein numberless small Shivalings, statue of God Hanuman and several other deities are engraved on sculpture.
TARKESHWAR NATH
Tarkeshwar Nath Temple adjacent to District Court of Mirzapur on the Bank of holy Ganga, finds its own mention in ancient legends.
AKRODH AKURDI
A village inhabited by Akrodh Muni himself in western side of Ramgaya Ghat. Akrodh Muni's name is always linked with the people living in this area. He has been a notable hermit in the same village.

In this very old temple, Goddess Asta Bhuja Maha Maya's statue is an excellent example of rare kind of workmanship, not to be found elsewhere.
SITA SAMHIT STHAL
It is believed that Mata Sita in the end of Treta prayed to God to allow her to get buried beneath the earth alive when she was humiliated by her own husband Ranchandra ji. Her prayer was approved her mother EARTH and this is the place where she got herself buried alive. It is situated 40 Kms away on Allahabad road from the Mirzapur City.
RENUKOOT BIRLA MANDIR
A newly constructed temple is fine instance of sculpture and marble engraving. It is situated on a hillock on the bank of Rihand Reservoir form the height of temple area the landscape of Hindalco Industries and Surrounding hills can be observed.
SHIV DWAR AT GHORAWAL
The beautiful idol of Ardhnarishwar is one of its own kind. Found any where in the country it is a joint statue of Shiva and Parvati in Lasya Mudra. Idol was found beneath the earth when a farmer was ploughing his land. It appears to be built when Chandel Kings Ruled over Ghorawal and nearby areas.
CHUNAR DURGA MANDIR
Less than 1 km southwards to the Chunar Railway Station, is perennial spring called Durga Kund. An old temple of goddess Durga Stands here. Sculptured on the rock there are several figures of animals found here in outline. The whole Back Wall of the ravine is covered with short inscriptions of many ages beginning from Gupta period.
CHUNAR DARGAH

Dargah of Hazrat Baba Qasim Sulemani Rahmat Ullah is situated at village Chunar in Mirzapur District about 30 kilometres on way to Varanasi. Hazrat Sulemani's Dargah is the famous Dargah and thousands of people around the state visit for their wish to fulfil. In the Islamic month of 'Rajab', Urs falls every year. It is a symbol of belief of all the religions of the state.

Hazrat belongs to Peshawar and visited India during the Mughal era. Jahangir (being a disbeliever of saints and miraculous men) ordered arrest inside the Chunar Fort but many hundreds witnessed that Hazrat was sometimes offering prayers at the bank of Ganges, Hills or nearby forests (inspite of being jailed). King Jahangir called upon and saw himself the miracle. Bowed in front and immediately released him with great respect. Since 1015 Baba Hazrat Qasim Sulemani is at peace and rests there at Chunar.

People believe that visiting there only gives wonderful results.
OTHER TEMPLES
Chunar Sahrif, Panch Mukhi Mahadev, Sankat Mochan, Lahandi Mahaveer, Kali Mandir Akordi, Motia Talab, Kundari Devi Shiva Dwar, Lohandi Mahaveer, Kanhari (Ghorawal), Shiv Mandir at Bhadohi, Bahandari Devi, Jwalamukhi