LOWER KHAJURI DAM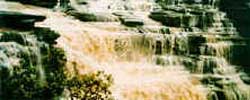 Situated 6 Kms away from district headquarters this is a Dam surrounded by hillocks.

Being in vicinity to the town the picturesque reservoir is a favorite picnic spot for city people.
WYNDHAM FALLS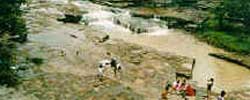 The pleasant stream coming downwards through the rock steps was first discovered by a British collector Wyndham hence its name.

All along the rains the roaring stream renders a lot of fun to the visitors who take bath in it.

The bird eye view of the fall can be taken from two "VIEW POINTS" on the hillock.

A small zoo and Children's park has also been constructed to add the beauty of picnic spot.
TANDA FALLS
This is another picnic spot frequently visited by the people.

On one side we can have a view of picturesque fall while on the other side 86 years old Tanda Dam stands to provide water for the city. It is situated at a distance of 14 Kms form the city.

During the rains when the streams of hills swell over and rush towards Tanda a view of 'Niagra' is presented by the violent fall of water.
SIRSI DAM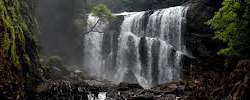 The Dam and Fall of Sirsi River renders another scenic beauty amidst series of Vindhya.

The reservoir of Sirsi Dam formed by 14 Sluice Gates attracts feathered guests of Siberia in winter season. Located 40 Kms away form the town, the spot also provides a facility to stay at the Inspection Bungalow of irrigation department.

The water of the reservoir when falls from a considerable height, a fantastic sound and view of water mist is created before the spectators.
MEJA DAM
Special class tourist bungalow of Meja Dam is recommended even for overnight stay.

With a floral surrounding we can have a spectacular view of huge reservoir and Dam.

Siberian Cranes are another attraction during the winters. Situated at 50 Kms form the City the place is ideal for a sweet weekend.
Salkhan fossils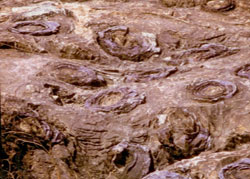 About 16 km. from Robertsganj, these botanical fossils date to meso-proterozoic period and said to be about 1100 million years old. The fossils are petrified tree stumps - which appear as rings on the boulders strewn around the area.
Pre historic Rock Paintings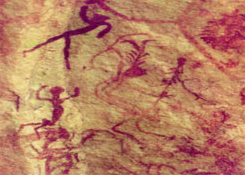 The Vindhya and the Kaimur ranges have at least 250 rock art sites spread across them. The cave paintings range from the mesolithic to the meolithic and chalcoithic ages. Among important cave painting sites found in the region are - the Panchmukhi caves (8 km from Robertsganj), Kauva Khoh rock shelters (near Churk) Lakhania caves (22 km, from Robertsganj) Lakhma caves (near Baghma village).
Water sports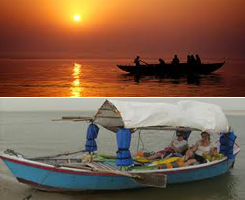 Kayaking, Canoeing or boating down the Ganga from Allahabad to Mirzapur and Varanasi is an experience to Cherish.
OTHER PICNIC SPOTS
Lakhania Dari, Jargo Dam, Jogia Dari, Chuna Dari, Mukhha Dari, Sidhnath Ki Dari, Renu Sagar Dam, Rihand Dam, Adawa Dam, Barudha