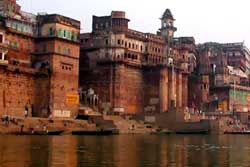 Mirzapur pronunciation (help·info) is a city in the heart of North India, nearly 650 km between Delhi and Kolkata and also equidistant from Allahabad and Varanasi. Located in the state of Uttar Pradesh, Mirzapur has a population of a little over 205,264 (2001 census) and is renowned for its famous carpet and brassware industry. Indian Standard Time is calculated from the clock tower in Mirzapur which is nearly exactly on the reference longitude of Indian Standard Time at 82.5°, within 4 angular minutes, a property shared by Tuni, a town in Andhra Pradesh

Situated at the bank of holy Ganges, Mirzapur City was a part of Banaras state in the year 1775. His Highness Wazir of Avadh rendered the sovereignty of the place to East India Company but the ruler of Banaras retained the managing administration, till 1794.

On October 27th the then Kashi Naresh Mahip Narain Singh transferred the sway over the city to the then Governor General.

In 1861, the district Mirzapur separately came into the existence when it was divided from Allahabad. With the view point of Area it was the largest district of United Province further in April 1989 the district was once again divided as the southern part was named as Sonebhadra.

Till June 14th 1997 Mirzapur was a part of Varanasi division. On that date the government of U.P. created a new division VINDHAYACHAL which included Sant Ravidas Nagar and Sonebhadra and Mirzapur having its HQ at Mirzapur CITY.

Three centuries back the town of Mirzapur began developing as a big center of trade and commerce of Northern India. As the means of transportation through rail and road were not available till then, the agriculture and forest yields of entire Vindhya and Kaimoor plateau lying in the southern part of the then Mirzapur and Central Province were transported down to the market of Mirzapur for the further transportation to the port city of Calcutta through river cargo.

The advent of woolen carpet weaving skill and non-ferrous metal utensil manufacturing added to the glory of the city as a trade centre. Even after construction of rail, road links the city continued to be identified as a major trade center of India.

In the post independence era the halo of magnificent and opulent town deteriorated decade after decade despite the proliferation of education, health and other developmental programmes. While the hoax of child servitude marred the carpet industry, the stone industry, in the last decade of the 20th century was highly affected because of the interference of Apex court for the cause of protection of environment. Green revolution brought a drastic change in the districts agro-economic scenario. Construction of a number of dams and canal network considerably helped the rise in farm outcome.